Speech Buddies is a set of five tools that are intended to improve speech sound production. The set targets the /r/, /s/, /l/, "ch", and "sh" sounds. Each sound is targeted through the use of plastic tools that are created to teach correct tongue placement.
(Graphic Courtesy of Speech Buddies)
I have been using the tool to target the /r/ sound with two students since the beginning of the school year. For this sound, the student uncoils the rolled up flexible plastic part of the tool, then holds his/her tongue at the end of the "roll" in order to produce the /r/ sound.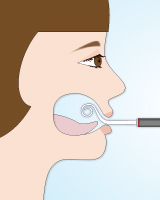 (Graphic Courtesy of Speech Buddies)
Although I have just used the /r/ tool so far, here is a graphic that explains how the other Speech Buddies products are used. The pictures provided are very helpful in explaining correct placement of the tools for specific sounds.
(Graphic Courtesy of Speech Buddies)
I have seen mixed results with my students using this system. For one of my older students, it showed him the correct placement that he hasn't been able to get with verbal and visual cues, as well as other apparatuses that we have tried. This is not to say that he is now able to generalize this sound to correct production without the tool. We still continue to work with the "r stick" as he calls it, and it will likely take some time to achieve this sound consistently with and without the tool. The other student I have been working with continues to have difficulty using the Speech Buddies /r/ tool. He has difficulty achieving a retroflexed tongue position and making his tongue tense.
The low down:
In my experience over the past two months, I have seen mixed results with this system. I have seen it work well for one student, but not as well for another. I also, however, believe that there is no perfect product. I think that each product is made as well as possible to help as many students as possible.
Things to consider:
- As just mentioned, in my experience, the Speech Buddies tools provided mixed results. As with any other larger purchase, I would encourage anyone interested to consider if the item(s) are worth purchasing for your specific population.
- I would strongly encourage anyone using this product to do so with the assistance of a speech-language pathologist.
To find out more about the Speech Buddies tools, you can
click here
.
Disclaimer: This product was given to me for review. No other compensation was provided. The opinions expressed here are solely my own through my own experiences with the product.